This is my own version of a "Books/movies/things I've recently acquired" meme. It's not expected to be a regularly scheduled blog entry, only when it's relevant. Please enjoy my play on FTW, "For the win!"
"Deals FTW!"
I scored BIG this week. Prepare yourselves, which is a
coupon
and price
matching/shopping
story. There's a bit of text if you're interested but I will add a TL;DR edition at the end.
This find is a little different, as it's related to a new segment I'm planning on bringing in.
As I've always stated this has been a 'review' blog to better my writing, I primary do movie and book reviews, I've decided to try adding some tabletop games into the variety!
There is a new review in the works and excepted to be posted soon.
With that said, let's talk about the finds.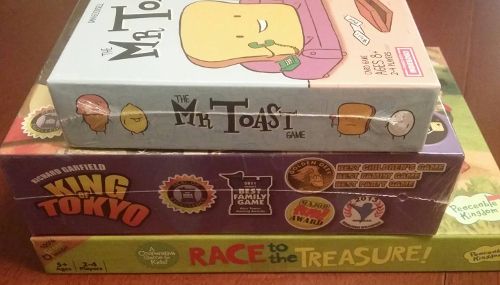 Board Game Mania!
This week Target has a great
"Buy 2 Get 1 Free"
sale that applies to both video games and board games. The only fine print, you can not mix and match. All 3 item must be either board games OR video games. Cheapest is free.
Taking that into account, after reading all the fine print. I used a few money saving tactics I had laying around.
Firstly, Target will
price match
. You have to be able to show the store or website themselves is selling it for the price you want matched.
This can only be done through their Guest Services area.
(Example: If it's listed on Amazon it must said "sold by Amazon.com" if sold by a seller/dealer or through fulfillment can not be honored or matched.)
There's a story to how I found that out.
Read below if you must know.
Target also sent out their Christmas catalog and had
coupons
attached to it. Simple
"Spent X amount get X amount in a gift card."
This week I only had to do a little grocery shop and grab some odds and ends, so I made sure to spent $50 and get a free $10 gift card off that offer.
Along with that I had a $5 off anything coupon that was still good.
Le proof!
I grabbed
King of Tokyo
first which was listed at $39.99 and price match it down to $27.73. Second,
Race to Treasure
at $15.99. Third,
Mr. Toast
at $14.99.
Through the sale Mr. Toast was free.
Use my $10 gift card and $5 coupon making Race to Treasure only 99
¢
.
King of Tokyo was paid in full at price match. + tax
Total: $31.96
That's $10.65 a game or two games for free, whatever way you want to look at it.
I'm beyond proud of myself.
These are essentially Christmas presents to the family. We talked about trying to encourage more family time. We bought all 3 of them taking into account the children's ages.
Each kid is going to get to open one of them.
I'm laughing pretty hard at giving "Irresponsibility: The Mr Toast Card Game" to the teenager.
TL;DR
Used a sale promotion "Buy 2 Get 1 Free" to get a free game, got the most expensive one price matched making it 2/3 of the listed price. Then used a gift card and a coupon to get the second game free as well.
Had an epically confusing time with Target inventory system
Scored 3 brand new board games for under $11/each.
Take advantage of any awesome finds or deals this week?