This is my own version of a "Books/movies/things I've recently acquired" meme. It's not expected to be a regularly scheduled blog entry, only when it's relevant. Please enjoy my play on FTW, "For the win!"

Inspired by related weekly memes that revolve around sharing in your excitement of your newest titles!
Such as; Stacking The Shelves hosted by Tynga's Reviews and Mailbox Monday.
"Deals FTW!"
This week more Christmas present finds with savings.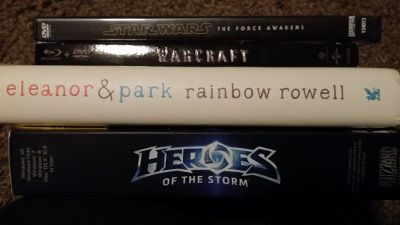 I got lucky and found a strictly DVD version
(DVD only, no Bluray, no digital copy)
of
The Force Awakens
on sale for $10. This is going in a very special little boys stocking. He asks to watch it
every time
he's over since we own a copy.
I'm also super excited I finally got my friend's daughter a copy of
Eleanor & Park by Rainbow Rowell.
For her birthday she got
Fangirl
, also, by Rainbow Rowell.
With the idea I'd slowly build her to some more adult issues in her teen years.

(She currently writes fanfic.)

Things like realizing you have more power and say in your life than you think, that love isn't always so controlling and restricting. It might hurt, but your life has to go on.
Basic ideals I'd like to help build and influence.

(Putting aside the overly period romance novels that are too idealist and unrealistic for teenage girls.)
*clear throat*
Sorry I adore Eleanor & Park. If you haven't read it, you need to.
As well as my future mother-in-law is getting both
The Best Exotic Marigold Hotel
and
The Second Best Exotic Marigold Hotel
. I ended up getting new copies off Amazon for about $6 each.
Whoops!
Haha sorry I've wrapped them already! Yes it's only the 3rd week of November but I'm basically finished Christmas shopping at this point.
I'm really excited because she hasn't seen either of them and I know she
really
wants to. Plus, I can vouch for the fact they're good movies! Very well written.
If you haven't seen them I recommend them and for once can honestly say I like the sequel more.
I'm still actively looking for small gifts, mostly stocking stuffers. So while I was browsing through Walmart's toy and misc clearance section section, I found
Heroes of the Storm Starter Pack.
It unlocks 5 heroes, Zagara, Sonya, Li Li, Jaina, Zeratul. I actually don't own any of those, which is the main reason this was purchased.
This bundle is usually about $20, it has been out for awhile but through most retailers it's still that price, as the base game is free I scored it for $10. Well actually my partner bought it for me when I pointed it out. So really I got it for free. *blush*
While semi unrelated to the reviews I right, I'm a big fan of MOBAs. Gamer wise I'm a very consistent player, not super great, not super bad; I'm okay. MOBAs are the only games I've ever journeyed into "good".
I played LoL since release up until about a year or so okay. I've also tried DOTA, HoN, almost every MOBA that came out. Considering HotS is F2P (Free to Play) there's two ways to get more characters to play or skins (make them look different). You either play games and earn in game credit or spend real money.
TL;DR
I got characters I'd have to build credit or spend money for in a game for half price.
While we're still on the Blizzard fangirl topic, which I am only slightly, my partner recently purchased a copy of
Warcraft
(2016)
. There's a special copy going around that's got the base copy of
World of Warcraft
in it. We snagged it for about $18.
This means we got a movie
and
the game
(which includes all expansions expect the newest, Legion)
for $18. A copy of WoW is about $20.
You can look at it like this, paid for movie got a free game or paid for game and got a free movie. Either way, it was a great deal.
(Sorry I can't find a listing online, it's a special release that might not be offered anymore!)
Have any good finds this week? Don't forget to comment and share!
Hope you all find some great deals out there!