In My Mailbox
is a weekly meme hosted by Kristi @
The Story Siren
to share the books and goodies you've gotten.
I hope everyone had a great week!
This post is for the last
two weeks
as I've made some great finds during that time.
While I don't expect to make an In My Mailbox post very often, I couldn't pass up making one today. I am a terrible person, I got lots on Amazon's Free Kindle lists!
Oh man
, I think we've all been there haven't we? That wonderful feeling of finding books for free but then that horrible feeling of
"What have I done to myself?"
getting lost in the thrill only to collect more books than you know what to do with.
(I don't know about you but I usually end up spending an hour *cough*or more*cough* picking through those "Top 100 Free" lists.)
That said, I wanted to feature some of the finds I found, considering some of them were on my wishlist!
Now I have
no problem
with self-published or unknown authors. Heck, I read ALL of the Trylle Trilogy before most people heard of Amanda Hocking.
(Along with gushing that more people needed to read them!)
These aren't all of my finds, simply some of the ones I wanted to highlight.
Bought (Free):
I'd like to show off my wishlist finds first.
(In order of image)
Betrayal

(The Descendants #1)

by Mayandree Michel
Breathless

(The Blue Fire Saga #1)

by Scott Prussing
Frey

(The Frey Saga #1)

by Melissa Wright
The Mind Readers

(Mind Readers #1)

by Lori Brighton
Charity Moon by DeAnna Kinney
I am one happy camper!
New Finds
:
Darkhouse (Experiment in Terror #1) by Karina Halle
Set in Stone by Beth Balmanno
The Overtaking by Victorine E. Lieske
Branded (Fall of Angels #1) by Keary Taylor
Other Finds:
These are mostly random free books I found on Amazon, most of them are light reads or rather silly. Most of these are not in my general area of interest, but after reading the summaries I thought I'd give them a try.
Sleeping Handsome by Jean Haus
Spying in High Heels (A High Heels Mystery #1) by Gemma Halliday
Harper Madigan: Junior High Private Eye by Chelsea Campbell
My Life as the Ugly Stepsister by Juli Alexander
Bought:
I was in Target a few days ago and picked through their DVD section, I freaked out over all the $5 movies and TV series.
Grounded for Life: Season 1 & 2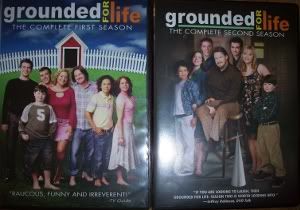 I LOVE this series! I've been eyeing the different seasons on Amazon for a good year or more, but when I saw them for $5 each I had to jump on them.
(I've already watched them and want more)
3rd Rock From the Sun: Season 3 & 4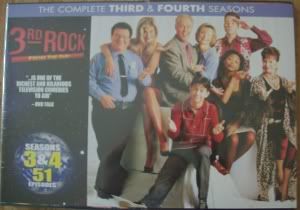 This is my mother's Mother Day present, I wanted to those it off because it was only $10!
I gave her season 1 & 2 as a gift not that long ago.