This is my own version of a "Books/movies/things I've recently acquired" meme. It's not expected to be a regularly scheduled blog entry, only when it's relevant. Please enjoy my play on FTW, "For the win!"
"Deals FTW!"
In the last few days, week months... a few regular trips to
Half Price Books
have been made.
Along with that, a rather large purge was done over the shelves of our household. Not only do I do Spring cleaning, I also do Fall cleaning (post Winter). Because you're locked in the house, things get forgotten, etc.
In those trips I've scooped up some great book deals, as stated in a previous post. What with Christmas shopping in full swing, I am hunting and searching for those deals!
While most of this post are not items that will stay in my position, Christmas presents to be given, they're still Finds!
(And right now honestly my blog is in dire need of some content.)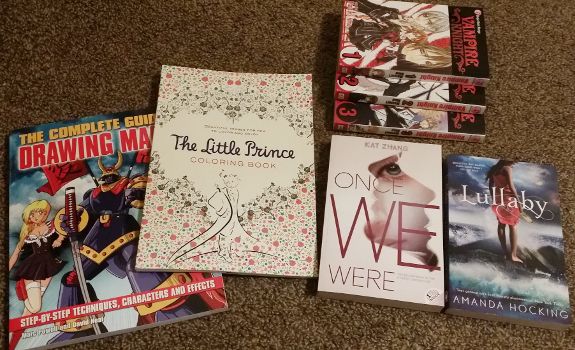 Please ignore my ugly carpet!
First we've got...
The Complete Guide to Drawing Manga by Marc Powell & David Neal
($7.99)
The Little Prince Coloring Book: Beautiful images for you to color and enjoy... by Antoine de Saint-Exupéry
($6.46)
Each of them easily half price of their usually shelves price.
I'd been lightly browsing for a "How to draw manga" book as a present, then find this one pretty under the usual prices I've seen, usually about $12-20. I wasn't sold on the art style of the cover, the inside is much better.
As well, I'd been looking for an adult colouring book for a gift for someone, then stumbled across The Little Prince. Which will have more sentimental meaning than silly adult colouring. It's usually $10+.
Next,
top of the image
, we've got
Vampire Knight Volumes 1-3 by Matsuri Hino
mangas Volume 1-3. I found two of the Vampire Knight mangas on a 'final clearance' shelf.
(Volume 2 was $2, Volume 3 was $1. Two mangas for $3 sounds like a win to me!)
I completed the set by purchasing Volume 1 from an Amazon seller.
( 01
¢

+ $3.99 shipping = $4 book!)
Then there's two books for me off the clearance shelf.
The second is Amanda Hocking's Watersong series, which I just purchased the first one on sale as well in a previous post
here
. Then another book I saw had good reviews on Goodreads, Once We Were, it's sadly the second book in it's series, I'll be searching to find the first book. Both books were $2 each.
Lullaby (Watersong, #2) by Amanda Hocking
Once We Were (The Hybrid Chronicles #2) by Kat Zhang
Have you found anything good or interesting recently? Please comment and share!
Hope you all find some great deals out there!