Finds This Week: #2
"Deals, FTW!"
This is my version of all those "
weekly haul
" memes.
(More Information)
This last week I did some more thrift shopping, while in search of household items and furniture, among those I hit two thrift stores and Target, and found a few things to add to my collections.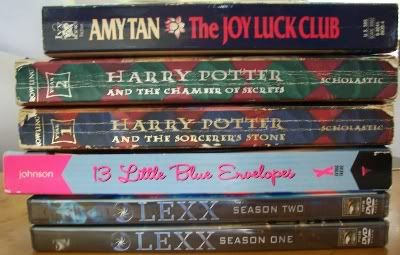 Bought
Thrift Store #1:
The Joy Luck Club by Amy Tan
$.50
I have been meaning to read this book for the longest time, my mother loves Amy Tan, and while I hate it I can admit I haven't read one of her books. I do however know the story of this one, from seeing the movie as a child.
(Yes I can still recall all 4 of the stories.)
Harry Potter and the Sorcerer's Stone

(Harry Potter, #1)

by J.K. Rowling
$.50
I haven't touched a Harry Potter book in years, I always meant to start my own collection. While this isn't my ideal copy, for $.50 it will do for now. Considering the pages are in much better condition than the cover.
Thrift Store #2: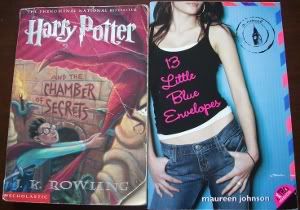 Harry Potter and the Chamber of Secrets

(Harry Potter, #2)

by J.K. Rowling
$.50
I laughed when I found this in another thrift store on the same day as the Sorcerer's Stone
. Like that book, not my ideal copy, but in great condition (minus the cover).
13 Little Blue Envelopes

(Little Blue Envelope, #1)

by Maureen Johnson
$.50
I love this book and I have read this series, however I didn't either of the books.
Target:
Lexx: Season 1 & 2
$10
I know this series is sort of.. an
acquired taste
, to put it simply. I've seen some of the first season and found it
interesting
. It's a bit more adult in the Sci-fi area than I'd watch, but I'm no stranger to the cult following it has. For $10 I'll give it a try.
Hope everyone had a great week!