Finds This Week: #1
I'm changing it up!
Explanation:
I've decided to go my own way in doing a "
Stacking the Shelves
" (Hosted by
Tynga's Reviews
), "
Showcase Sunday
" (Hosted by
Books, Biscuits, and Tea
) and "
In My Mailbox
" (Hosted by
The Story Siren
) themes
(just to name a few),
All of which were originally inspired by Alea @
Pop Culture Junkie
.
Now I won't be going to the extreme of changing my old posts out, although I will no longer be using the
In My Mailbox
tag. which was the meme I was using.
I will however still link my blog around to mentioned/related 'haul' memes
Why the change?
While there are many possible reasons as to
why
the change, none of them really matter aside from
"Either way you don't win."
In addressing the amount of drama I've both saw and still see on occasion flying around, I'd rather not link myself to anyone's "Weekly goodies" memes. If you know what I'm talking about this is all I'm going to say, or rather 'imply' on the matter, if you have no idea why it would matter;
Good
.
And while it hasn't personally happened to me
(that I know of)
, it wouldn't surprise me if people start to un-follow someone for still using "
In My Mailbox
" or starting with the newer version "
Stacking the Shelves
" or "
Showcase Sunday
".
Either you go with the new trends or stick with the old one. Some people won't be happy with whatever you do, but that's their view of things. While I personally, don't care what most people think about this I really just don't want to put myself in the middle of something I have nothing to do with.
From that I will be;
Neutral
. Hopefully that is reasonable enough.
There's more to it:
Along with none of those titles really fitting how I go about this. I'm not feeling their style or function. They just aren't my speed in the way I gather books and the fact I also branch out with TV and movies.
I'm pretty much a no one who doesn't expect to receive ARCs or anything of the variety unless it's a giveaway/contest. Even still I'm horribly unlucky in that sense so I don't invest much in having a return.
(It's just fun be part of something sometimes. See what people are up to, what they are saying, etc.)
I mostly surf the net, thrift stores, second-hand shops, and look for deals. Which I enjoy.
(It's like a mini treasure hunt, only easy on the bank account.. sometimes!)
Also as horrible as it is to admit it, I wanted a clever name. While this isn't the best that's out there, for now it's what I came up with. For those unfamiliar with the term "FTW" it generally means "For The Win" the nerd/gamer in me giggles a little when I attach it to my great deals. Because you'd use the term "FTW" to farther emphasize what caused something great. IE: "Great deals, FTW."
Not the best way to explain the term, but hopefully understandable enough to those that wouldn't normally see or use it.
The Finds
This last week I was shown around some of thrift stores in my new location. I was luckily enough to find a couple of them with decent book sections!
I also found a cute little second hand book shop, but was unable to do any shopping. Thanks to an extremely rude customer, which resulted in me walking out. (Was not happy that day.) Hopefully I will try to go back and browse again in the future.
This week I got 4 books for under $5 (with tax)!
Bought: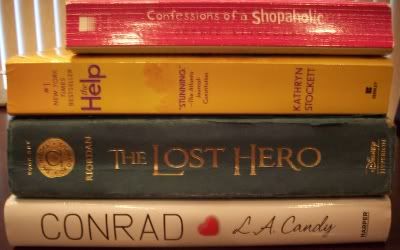 Thrift Store #1
The Help by Kathryn Stockett
$.50
(Check the image out on the left for the copy I own.)
I wanted to show that I purchased the "Movie-Tie-In) edition, which I'd normally be less inclined to by, but with a price tag of $.50, I wasn't going to walk away from it.
The main reason I wanted to feature this edition is because it has an essay by the author along with 'discussion questions'.
I plan to add those into my review.
I have already seen the movies, when it came out, which is very rare for me to do, and I loved it! I've seen a few time since but it's still as good as the first time.
Easily said I was thrilled to see this book for $.50. Even saw it somewhere else for $5 that day and laughed to myself.
The Lost Hero (Heroes of Olympus, #1) by Rick Riordan
$1.00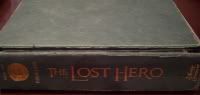 This poor poor book! It's been though hell and back. While not my ideal copy, for $1 I'm not going to complain much. I saw it and went "I'm buying you and going to treat you like gold!'
I'm a big fan of Rick Riordan, truly in love with the Percy Jackson series, when I found this there was no question if I was going to buy it or not.
This book was owned by a little girl, which explains why it's so beat up, which I discovered on the first two pages she labeled it and herself as the daughter of Posiden/Nepture.
(One on one page one on the other.)
I thought it was cute.
It's little quirks like that I love finding hidden in second-hand treasures.
Even with the shape this
(poor poor)
book is in, I still think it' a great find.
Thrift Store #2
L.A. Candy (L.A. Candy, #1) by Lauren Conrad
$2
I won't lie, I've heard very mixed feelings about this book. I however, love Lauren Conrad, not for Laguna Beach or The Hills, but because what she's done. She went to school, she got a job, she's tried to keep out of drama and most of her 'personal life' out of the lime-light, she has her head on her shoulders.
Confessions of a Shopaholic (Shopaholic #1) by Sophie Kinsella
$.50
I found this while skimming through the Chick-Lit and thought for $.50, no big deal. I heard it cute, although some mixed reviews and a fairly 'iffy' movie based on the book it's self.
Borrowed:
Castle: Season 2 & 3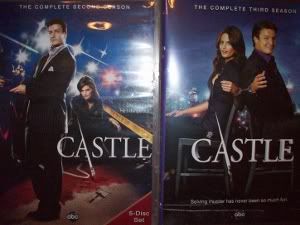 I'm also already done with
both
of these already. I do love me some Nathan Fillion..
Current Bookmark:
This is something new I wanted to start. While I don't usually have great bookmarks and this won't always be featured, I did want to show my '
current bookmark
' on occasion. That is when I have one that's really cute, cool, or just interesting looking.
Inspired by Liza @
Reading with ABC
, known as "
Bookmark This Week
", seen here
Bookmark This Week
.
This is the card I got out of a
Zoltar machine
. I'm a
Scorpio
,
by the way
.
The funny thing about this card, my mother is an
Aries
and
my father is a
Libra
, and the roles it's implying, would usually be reversed.
Let's not argue about how much effort or even faith I put into fortune telling or even horoscopes, nonetheless I think they're interesting. Nothing wrong with wasting a few quarters on a machine for fun.
I hope everyone else found some great stuff this week!