In My Mailbox
is a weekly meme hosted by Kristi @
The Story Siren
to share the books and goodies you've gotten.
I hope everyone had a great week!
This is my first In My Mailbox, please bear with me.
I have been holding off posting this, knowing I was getting a couple of things in the mail. Although has I'm new to this I haven't received much, but still thought I would share!
I have received two wonderful things from fellow bloggers that I would like to thank.
Received:
Tough Shit: Life Advice from a Fat, Lazy Slob Who Did Good by Kevin Smith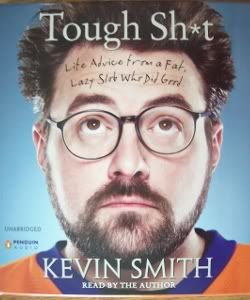 I received this audiobook from
Laura
@
Owl Tell You About It
Easter Candy!
A friend of mine got me a ton of Easter candy, here's
some
of it.
I'm not even going to admit how much of the candy that is.. *cough*
But it's a
lot
of chocolate..
♥
Won:
Signed Slide Bookmark
(
Slide by Jill Hathaway
)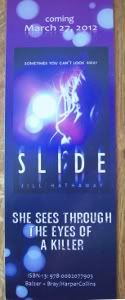 From
Ed and Em
@
Ed and Em's Reviews
Love it! This bookmark is so pretty, I'm already using it.
Notice: This entry is a backdate originally posted on April 24th, marked for April 22nd.